Watch Video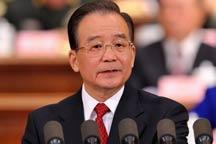 Play Video
This year marks the start of the 12th Five-Year Program, which continues the work of building a moderately prosperous society. Premier Wen Jiabao's government report reviewed the accomplishments of the previous program and looked forward to the next tasks. Let's take a look at the highlights.
Over the last five years, GDP grew at an average annual rate of over 11 percent to reach nearly 40 trillion yuan. Over the next five years, a target of 7 percent annual increase is set, with significant improvement in the quality and performance of economic growth. Based on 2010 prices, the country's GDP in 2015 should exceed 55 trillion yuan.
A two-year stimulus plan invested four trillion yuan. It went to projects to improve the wellbeing of rural residents, social programs, energy conservation and post-Wenchuan earthquake recovery and reconstruction.
Progress in all social programs accelerated and the standard of living rose significantly. Continuing the trend will be a major task in the coming five years. The number of new urban jobs increased by over 57 million. The next phase is to create equitable job opportunities for the entire workforce, and create an extra 45 million urban jobs.
The per capita disposable income of urban residents rose by an annual average of nearly ten percent and the per capita net income of rural residents by nearly nine percent in real terms. The new target for both is an annual average increase of over seven percent in real terms.
A basic medical insurance system for non-working urban residents and a new rural cooperative medical care system have been carried out. Over 400 million working and non-working urban residents and over 800 million rural residents have benefitted. The next phase is basic pension insurance and basic medical insurance systems coverage for all urban and rural residents. The medical insurance fund is to pay for 70 percent of treatment expenses, in accordance with relevant policies.
Great efforts have been devoted to constructing low-income housing and redeveloping run-down areas. As a result, 11 million poor households were able to move into new homes. In the next five years, low-income housing will be made available to around 20 percent of the country's urban households.
Government spending on education nationwide totaled over 4 trillion yuan, and grew at an average annual rate of over 20 percent. And efforts continuing to give top priority to education, and steadily raise the overall level.
Great strides were made in developing clean energy. Energy consumption per unit of GDP fell over 19 percent. The new target calls for a further reduction of 16 percent.
And last but not least, the 12th five-year program calls for the government to constantly strengthen internal reforms and self-improvement.
Editor:Du Xiaodan |Source: CNTV.CN