Watch Video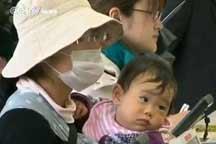 Play Video
Friday's massive earthquake and the following tsunami have left thousands of people homeless. With many staying in temporary shelters, some evacuees are showing frustration at their situation.
This is the evacuee center in the town of Okuma, Fukushima prefecture.
With its location near to the stricken No.1 nuclear plant, many people are getting very concerned about radiation levels.
Some complain about the lack of food. There is also dissatisfaction over the way authorities handled the evacuation.
Evacuee Fumioko Watanabe said, "The town's response was too slow and that's why things have ended up this way."
One evacuee however, says he has full confidence in the authorities.
Evacuee Koji Watanabe said, "They said it's safe and there's nothing to worry about. I trust them completely."
In Soma, also in Fukushima prefecture, government officials are anxious about the effects of a radiation leak.
City government official Misuyuki Ido said, "Because the material could be harmful to humans, I'm very worried about the radiation leaks."
Long queues have formed at Fukushima airport, with hundreds trying to board flights to leave the area.
Nearly 200,000 people are thought to have already evacuated the area.
Related stories
Editor:Zhang Ning |Source: CNTV.CN