Watch Video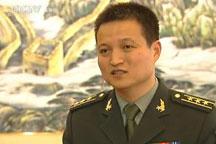 Play Video
And for further analysis on the White Paper, our reporter Han Bin spoke with colonel Yang Yujun, the Deputy Director General of the Information Office from the Ministry of National Defense. Yang Yujun discussed China's security situation, and explains why the country's military expenditure is moderate.
Q1. Does the White Paper say China's security situation is improving or getting worse?
Q2. China has always stressed the defensive nature of its national security policy. Does this contradict its pursuit of high-tech weaponry?
Q3. The world is paying a lot of attention to China's military expenditure. Some even regard the budget increase as a threat. How do you respond to such criticisms?
Q4. Japan's nuclear situation has made many countries rethink all aspects of nuclear safety. Has China changed its strategic nuclear policy because of this?
Editor:Zhang Pengfei |Source: CNTV.CN