Watch Video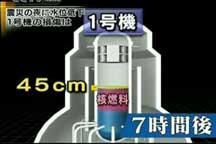 Play Video
The Tokyo Electric Power Corporation has faced repeated criticism over its handling of the nuclear crisis, particularly over a lack of information. Now, for the first time, TEPCO has published water level data for some reactors at its Fukushima plant.
The data includes water and pressure levels inside some reactors between the 11th and 13th of March.
It shows that fuel rods, which are normally 4 meters below the water level, became exposed when the earthquake struck. Water levels eventually fell to 1.7 meters below the top of the rods. The exposed rods then melted, causing a hydrogen explosion.
The data shows there were warning signs before the explosion, but prevention measures were not taken. TEPCO says it has only just collected the full data and has never tried to hide any information.
Editor:Zhang Pengfei |Source: CNTV.CN