Watch Video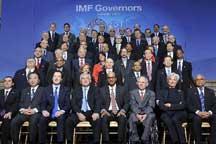 Play Video
The International Monetary Fund and World Bank have held their spring meetings at the World Bank building in the US capital, Washington DC.
They discussed the outlook of the global economy, and the challenges that lie ahead.
It's the fourth year of the global financial crisis, and the world economy is slowly picking up. But there are still great vulnerabilities and uncertainties.
That's the message world financial leaders are sending out from their spring meeting.
World Bank President Robert Zoellick says the surge in food prices is the biggest threat to the world's poor, pushing 44 million more people into poverty over the past year.
Robert Zoellick, World Bank President, said, "Of particular concern is food prices. This is the biggest threat today to the world's poor, where we risk losing a generation. We are one shock away from a full-grown crisis. The financial crisis taught us that prevention is better than cure. We cannot afford to forget that lesson."
Also adding to the sense of urgency is a long list of new challenges.
Financial leaders warn that it's critical for all countries to guard against complacency.
Tharman Shanmugaratnam, Head of IMF Steering Panel, said, "We have new vulnerabilities and new risks - the tragedy in Japan, developments in the Middle East, the prospect of higher commodity prices, and other new risks. So, there is a sense around the table in all our discussions that we are still in a fairly fragile situation. We have to be extremely watchful."
Saturday's talks followed the G20 meetings on Friday which agreed an improved monitoring process over global imbalances. But it's still not clear how effective that will be.
Related stories
Editor:Zhang Pengfei |Source: CNTV.CN