Watch Video
Play Video
Tokyo Electric Power Company has released new video showing widespread damage to the reactors at the crippled Fukushima Daiichi Nuclear Plant.
The plant was hit by the massive earthquake and tsunami in March and has been leaking radiation since.
In video footage shot on April 15th, reactors are shown with smashed walls and roofs reduced to their framework, as white smoke wafts out from underneath the wreckage.
Engineers have been pumping fresh water into the pools inside the four reactors in an attempt to keep fuel rods from overheating.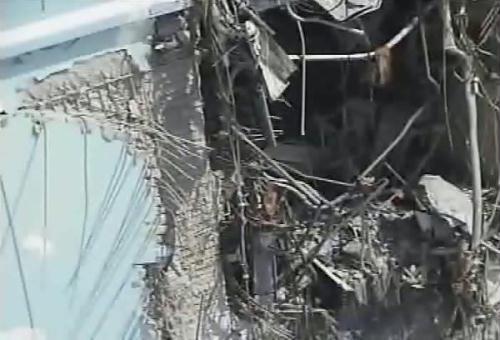 In this image taken by T-Hawk drone aircraft, Tokyo Electric Power (TEPCO)
Co.'s crippled Fukushima Daiichi Nuclear Power Plant No.4 reactor building
is seen in Fukushima, northern Japan April 15, 2011, in this handout photo
released by TEPCO April 16, 2011. Japan has told the U.N. atomic agency that
28 nuclear workers have received high radiation doses as they battle to
stabilise the stricken Fukushima Daiichi power plant. Picture taken April 15,
2011.(Xinhua/Reuters Photo)
Japan's Nuclear and Industrial Safety Agency has said a new plan for cooling reactor No. 2 may be needed due to the large volume of highly radioactive water on site, and tests would be done to determine if damaged spent fuel rods were emitting radiation.
It has also said it was now "highly likely" there was a hole in the suppression unit of the reactor.
Engineers are also concerned that some spent fuel rods were damaged by the March 11 earthquake and tsunami and could be emitting high levels of radiation.
In this image taken by T-Hawk drone aircraft, Tokyo Electric Power (TEPCO)
Co.'s crippled Fukushima Daiichi Nuclear Power Plant No.1 reactor building's
rooftop is seen in Fukushima, northern Japan April 15, 2011, in this handout
photo released by TEPCO April 16, 2011. Japan has told the U.N. atomic agency
that 28 nuclear workers have received high radiation doses as they battle to
stabilise the stricken Fukushima Daiichi power plant. Picture taken April 15,
2011. (Xinhua/Reuters Photo)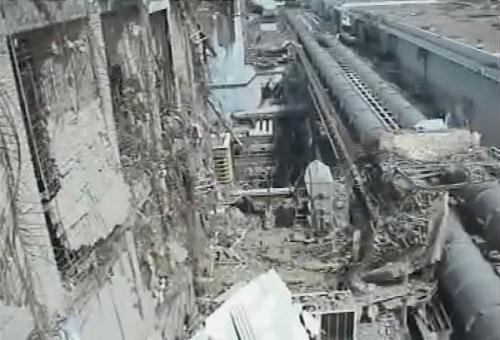 In this image taken by T-Hawk drone aircraft, Tokyo Electric Power (TEPCO)
Co.'s crippled Fukushima Daiichi Nuclear Power Plant No.4 reactor building
in Fukushima, northern Japan April 15, 2011 is seen in this handout photo
released by TEPCO April 16, 2011. Japan has told the U.N. atomic agency that
28 nuclear workers have received high radiation doses as they battle to
stabilise the stricken Fukushima Daiichi power plant. Picture taken April 15,
2011. (Xinhua/Reuters Photo)
Related stories