Watch Video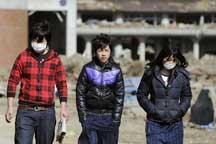 Play Video
Schools in Japan's quake-hit areas had been due to start their new semester Thursday. But as many classroom are still used for temporary housing for residents, this may not be possible.
It's the official opening of the new semester in Ishinomaki city. But some of the middle schools have to delay classes.
Classrooms in 37 schools have served as temporary shelters after the earthquake and tsunami. Although the city's education authority has asked residents to move to gym or other shelters, most classrooms are still occupied.
Middle School Principal, Ishinomaki, Japan, said, "350 students have registered for the new semester. But we do not have enough classrooms. We have to delay classes. Many of other schools face same problem."
Middle School Student, Ishinomaki, Japan, said, "Only one or two classrooms are left for us."
Middle School Student, Ishinomaki, Japan, said, "Classes have not begun yet. But I'm looking forward to it. I have many friends in school. I hope to welcome the new semester with them happily together."
Many schools plan to set up temporary tents for classes. As the weather will soon get warm, schools even plan to arrange outdoor classes.
Related stories
Editor:Zhang Pengfei |Source: CNTV.CN