Watch Video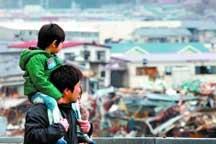 Play Video
It has been over a month since the massive 9.0 magnitude earthquake struck Japan. But reconstruction work is progressing slowly.
Ishinomagi city in Miyagi Prefecture. Reconstruction has seen little progress since the earthquake.
Resident, Ishinomagi, Miyagi, said, "It's already been a month. Only the roads are cleared. A lot of things remain undone. Ordinary people aren't able to cope with such a huge disaster. We hope the government can deal with this terrible situation."
Reconstruction work has mainly been undertaken by Japan's self-defense force.
But currently only 40 people are assigned to the area we see here.
Meanwhile, lack of cooperation between prefectures is slowing the flow of supplies and aid.
A couple of days ago, Onagawa city received a donation of 20 million yen.
But the mayor says much more money will be needed for reconstruction.
Mayor, Onagawa, said, "Onagawa village, hasn't received any money from the government. We have received donations, and in one or two days, we will give this money to the villagers. Each person will receive 20 thousand yen."
Analysts say the inflexibility of the Japanese government may be slowing the reconstruction process.
Rigid rules they have imposed are causing delays international relief supplies reaching the people.
Many are calling on the government to take more urgent action to bolster the reconstruction process.
Editor:Zhang Pengfei |Source: CNTV.CN