Watch Video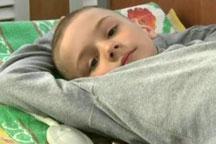 Play Video
The upcoming 25th anniversary of the Chernobyl nuclear accident has once again turned people's attention to the lingering effect of the disaster. Belarus is one of the countries most affected by the accident. A Children's Wellness Center has been set up to help them to deal with the hazard.
25 years after the Chernobyl disaster, 15 percent of Belarus is still classified as polluted.
Children born in the area must deal with the lingering effects from an era before they were even born.
The government has set up 13 Children Wellness Centers for treatment and rehabilitation.
One is in the capital Minsk.
The center also provides psychological counseling for teenagers.
The government has made it a rule that children aged 3 to 16 living in the radiation area can receive 24 days of free treatment at the center.
These centers also offer rehabilitation services to young sufferers from other countries, such as Russia and Ukraine.
In June, the center will receive 30 children from Fukushima.
Part of the therapy can be seen at an exhibition hall. Children use their pens and brushes to express their wish for a peaceful, clean and nuclear-pollution-free environment.
Related stories
Editor:Zhang Pengfei |Source: CNTV.CN