Watch Video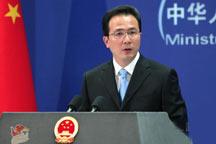 Play Video
The international community continues to express concern over situation in Syria. Many are calling for dialogue to end the crisis.
China's Foreign Ministry says Syria should resolve its problems itself, through dialogue. The Ministry says China has participated in UN discussions on Syria with a constructive attitude.
Hong Lei, Spokesman of Chinese Foreign Ministry said "We believe the parties in Syria should resolve their differences through political dialogue. They should properly address the current crisis, and maintain national stability and normal order."
South Korea is expressing deep concern over reports of high numbers of casualties in Syria.
Cho Byung-Jae, Spokesman of S. Korea Ministry of Foreign Affairs said "We insist that the Syrian government immediately stop using military power against peaceful protesters so there will be no more casualties. The South Korean government hopes the current situation will be solved peacefully through dialogue and compromise."
As a neighbor of Syria, Turkey has urged Syrian President Bashar Assad to meet the demands of demonstrators. It says a delegation is on its way to Syria, to convey Turkish concerns.
Russia meanwhile, has called on Syrian authorities to investigate all incidents where people died, and to punish those responsible.
In the US, despite fading hopes of a diplomatic solution, White House officials say they're still seeking to persuade President Assad to listen to the protestors' demands. On Thursday, US Senator John McCain warned against armed intervention in Syria. He highlighted the risks, and said it might not prevent the crackdown on protests.
Meanwhile, Britain has withdrawn its royal wedding invitation to the Syrian ambassador, in light of attacks on protesters by Syrian security forces.
Related stories
Editor:Xiong Qu |Source: CNTV.CN