Watch Video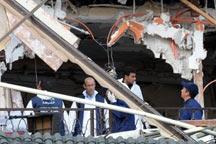 Play Video
In Morocco, a massive blast has killed 15 people in Marra-kesh city. Another 23 people were wounded. Many of them are foreigners.
UN Secretary-General Ban Ki-moon has said he is appalled by the attack and reiterated what he called his "firm rejection of the use of indiscriminate violence against innocent civilians"
The blast ripped through the second floor of a tourist cafe.
The body of a dead victim is seen after an explosion rocked the Argana
cafe in Marrakesh's main Jamaa el-Fnaa square April 28, 2011. REUTERS/
Youssef Boudlal
Investigators work at the site of a blast at a cafe in Marrakesh April 28,
2011. Moroccco's interior ministry said on Thursday early evidence suggested
a deadly blast in the heart of the country's main tourist destination,
Marrakesh, was a criminal act. REUTERS/Youssef Boudlal
The store overlooks Marrakesh's Jamma el-Fna square, a spot that is usually bustling with foreign tourists and local vendors.
One witness said "We felt like there was a volcano shaking the ground. We saw people going outside and running. We have never seen anything like this. This was around eleven."
Forensic officers check the Argana restaurant in Jamaa El-Fna square
in Marrakech. A Marrakesh explosion branded as a "terrorist" attack
by Morocco and France killed at least 14 people on Thursday, including
six French nationals, officials, medical staff and witnesses said.
(AFP/Abdelhak Senna)
State-run 2M television said the 15 dead were six French nationals, five Moroccans and four foreigners whose nationality was not given.
Taieb Cherqaoui, Moroccan Interior Minister said "I condemn this criminal act that hit our country and killed innocent Moroccans and foreigners. Those responsible should know that the justice will reach them."
The interior minister was quoted by local media as saying preliminary investigation suggested it was a terrorist act.
The Jamma el-Fna square is a UNESCO World Heritage site known for its snake charmers, fire breathers and old town, or medina.
Fatima Ezzahra Elmanouri, Mayor of Marrakesh said "In reality the square is in our heart and we condemn this act and it doesn't belong to us as Moroccans. The investigation is going on and we should wait for results and we send our condolences to the people who have been killed."
It's been eight years since Morocco experienced a terrorist attack. In 2003, 45 people were killed in a suicide bombing in Casablanca.
Editor:Xiong Qu |Source: CNTV.CN