Watch Video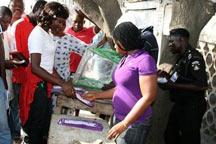 Play Video
Nigerians have gone to the polls to elect governors in two northern states. The country is now split along Christian and Muslim lines. Violence erupted when allegations over voting fraud arose as Goodluck Jonathan, a Christian, had won the presidential election.
Under the watchful eye of policemen on horseback and soldiers manning barricades, the vote in Bauchi and Kaduna states begins.
This election was delayed by the post-election violence last week that killed at least 500 people across the north of the country.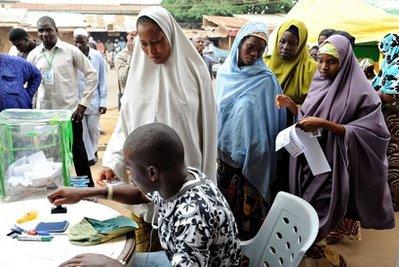 Prospective Muslim women voters queue to cast their vote during the
rescheduled Kaduna State governorship election at Rigasa in Igabi
district, Kaduna State.(AFP/Pius Utomi Ekpei)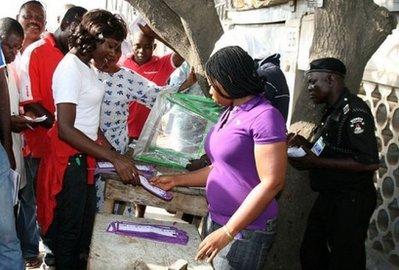 People count ballots under the look of a Nigerian policeman in a polling
station in Lagos. Nigerians voted in state governor elections Tuesday
in the last of three landmark ballots this month and after presidential
polls set off unrest believed to have killed hundreds last week.(AFP/
Monday Emoni)
Among the debris of burned homes, numerous people still pour into the streets waiting to cast their ballots.
Muhammed Sabo, voter said "I came to vote today despite the previous violence because we believe that Kaduna state belongs to all of us, and it is our duty to select or elect a good leader that will move the state forward."
However, while locals have high expectations for what the observers called a "large fair" election, it remains unclear what the vote has changed.
The ruling political party retained control over many state governorships.
Opportunities remain few for those in the arid north, as jobs are scarce and a formal education remains out of the reach of many.
The homes of traditional rulers were burned across the north in the post-election violence.
This is something that once unthinkable in this region that values the advice of elders.
Aliko Mohammed, Member of Forum of Northern Leaders said "I think really that this is a problem between the political, as well as traditional leadership in the north versus the ordinary people. The ordinary people see that the northern leadership has sold out to the south."
Voting goes slowly, but both areas see low voter turnout as soldiers have taken over security for the hard-hit states and many remain displaced by the rioting.
Related stories
Editor:Xiong Qu |Source: CNTV.CN