Watch Video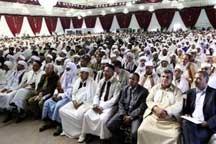 Play Video
Libyan tribal leaders have gathered in the capital, Tripoli. They called for a realization of domestic reconciliation and national dialogue, and maintaining the territorial integrity.
Libya's tribes seized the initiative and called the meeting. According to the organizer, about 2-thousand leaders were present, representing all of Libya's 850 tribes.
The call went out for national unity. Several urged rebels to disarm and demanded that the international community halt its bombing campaign to protect civilians against Muammar Gaddafi's troops.
Tribal Leader, said, "Libya is now confronting the provocation of mischief by the foreign countries, as well as their military intervention. The Libyan people will not sit it out. Our destiny in in the hands of our own people."
A rebel spokesman dismissed claims that those at the Tripoli conference represented all the Libyan tribes. Some even argue that Gaddafi makes regular payouts to tribal leaders to stay in power.
The meeting comes at a time of deepening international isolation of the Gaddafi regime.
In Rome, US Secretary of State Hillary Clinton said the best way to protect Libyan civilians is for Gaddafi to step down.
Tripoli's meeting was a counterpoint to that call.
In a similar move Sunday, tribes loyal to Gaddafi called on the people to stand united with their leader against NATO airstrikes.
They said the tribes would try to negotiate an end to the fighting, provided NATO airstrikes stop. But they said they're ready to fight the rebels if necessary.
Editor:Zhang Pengfei |Source: CNTV.CN