Watch Video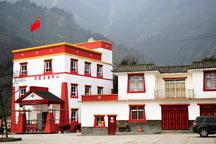 Play Video
Next week marks the third anniversary of the earthquake which shook southwestern China on May 12th, 2008. Nearly 70 thousand people died in the Wenchuan quake and 20 thousand have never been accounted for. Today, we begins a special series called "Wenchuan, Three Years On", focusing on the reconstruction work and the lives of survivors in the quake zone.
In the opening episode, CCTV reporter Han Bin goes back to Yingxiu, one of the worst-hit towns. As he finds out, reconstruction has almost completed, but the emotional recovery is perhaps the most difficult of all.
Tomorrow in Wenchuan, 3 Years On, Han Bin examines the challenges of rebuilding infrastructure in the quake zone. The pace has been fast, yet full recovery is still a long-term task.
New houses are built after earthquake in new Yingxiu town.
The new Yingxiu town.
A new Yingxiu town, rising from the rubble.
Three years ago, Yingxiu was the epicenter of the Wenchuan earthquake. Today, the remnants have become a tourist attraction. And life for survivors is moving on.
"The changes are shocking."
"I didn't expect Yingxiu could be re-built so well."
The surviving villagers have all moved into new apartments.
Dong Yu turned her ground floor into a shop to earn some additional money for the family.
Dong Yu, Feng Xiangshu Village, Yingxiu Town said "I think life will get better and better in the future. We know Yingxiu is to be built into a tourist center, so business will be good."
Visitors come to visit the earthquake relic in Yingxiu town.
The new Yingxiu town.
Dong Yu's husband Fu Lingfeng never forgets being buried under the ruins. Three years later, he still needs another operation.
Lingfeng took me to the third floor of his new apartment. The old house can be seen from here. He says he's become used to facing the past. But life needs to go on. His strongest support now is his child, born one year after the earthquake.
Fu Lingfeng, Feng Xiangshu Village, Yingxiu Town said "After experiencing such a big disaster, we can overcome all difficulties. I have full confidence to live much better."
The new Yingxiu cost some 1.4 billion Yuan, that's over 200 million US dollars. Xu Hongjun, the town's new head, says most of the investment comes from donations, but the future of his town depends on Yingxiu itself.
Xu Hongjun, Head of Yingxiu Town, Wenchuan County said "All of the reconstruction project will be completed by August this year. Yingxiu's tourist industry will be basically formed, getting more visitors from outside."
Yingxiu is now using various ways to bring in visitors. And as most of the farmland is gone, villagers are taking up new occupations.
Yingxiu town still contains huge rocks that fell from surrounding hills during the quake. This one has become a landmark memorial for Yingxiu. It is now both a reminder of the disaster and a testament to their strength to face difficulties.
At Yingxiu's May 12th Graveyard, hundreds of people come to mourn those who lost their lives in 2008.
40-year-old Yan Xiaodan came to remember his wife Yang Xiaofang. The couple had been married for 12 years when that day changed his life forever.
Yan Xiaodan, Villager of Yingxiu Town said "The sun is so bright, yet she cannot enjoy the good life with us. It's always so sad and painful to think of her."
About 6 thousand people are buried on this hill, about a third of Yingxiu's population.
The victims include Dong Chenghua's daughter Lulu. When we first came upon him a week after the quake, Dong Chenghua was searching for his daughter's belongings.
Three years later, we've come across him again. Dong Chenghua has just moved into a new 120-square meter apartment, yet he finds it hard to move on with his life.
Dong Chenghua, Villager of Yingxiu Town said "I miss my daughter so much. I can never forget about the past and I still often dream of her."
Dong Chenghua is happy to live in his new apartment. The old one was cleared away. But he says nothing can ever take away the pain of losing his daughter.
Editor:Xiong Qu |Source: CNTV.CN