Watch Video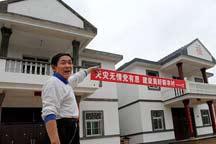 Play Video
China's top economic planning body has given a progress report on the rebuilding of areas worst hit by the massive earthquakethree years ago in Sichuan Province. 95 percent of reconstruction projects have been completed so far.
Officials say nearly 3,000 new schools and more than one thousand hospitals in Sichuan have been built or reconstructed.
The reconstruction investment in the province so far has reached nearly 800 billion yuan. The funds also helped renovate and reinforce more than 3 and a half million rural and urban homes in just one year after the quake. In two years, reconstruction of 1.5 million rural homes, and 250-thousand homes in cities was finished.
GDP growth in the 39 quake struck counties was 1 percentage point higher than the provincial level.
The vice governor of Sichuan says the provincial government will allocate an additional 3 billion yuan in the next three to five years, to help over 12-hundred villages eliminate poverty.
The quake also impacted neighboring Shaanxi and Gansu provinces. Three years on, living conditions there are also improved.
In Gansu, nearly 700,000 homes have been rebuilt or renovated. All damaged temples have been reinforced or reconstructed in the province.
In Shaanxi, four severely-affected counties have completed more than 95 percent of rebuilding. Officials say that not only have living conditions improved through the the reconstruction process, but the economy has rebounded strongly.
According to the country's general reconstruction plan, the rebuilding in the quake zones is expected to be fully completed by the end of September.
Related stories
Editor:Zhang Ning |Source: CNTV.CN