Watch Video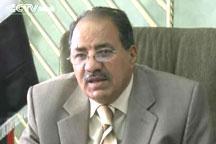 Play Video
Yemen's Prime Minister Ali Muhammad Mujawar recently visited member countries of the Gulf Cooperation Council.
During the visit, he delivered a letter from President Ali Abdullah Saleh, in which the president explained the current situation in Yemen to the GCC leaders and expressed appreciation for the efforts made by the Council.
But during an exclusive interview with CCTV, the Yemeni government spokesman said disputes remain on signing the proposal raised by the GCC last month, which calls for President Saleh step down within a month and hand over power to his deputy.
Abdu Ganadi, Yemeni Gov't Spokesman, said, "Disputes on signing that proposal focus on whether it is a proposal among different parties in Yemen or between the President and the opposition Parties. The President not only represents himself, but also the whole nation. So we say it should be a inter-party proposal."
Editor:Zhang Pengfei |Source: CNTV.CN