Watch Video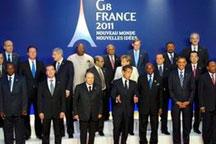 Play Video
Statements from the G8 members have again disappointed the Libyan government as another round of air strikes shook Tripoli. But rebels say the world powers are making their decision for the sake of the Libyan people.
A fresh round of air strikes have gone off again on Saturday in Tripoli, with no sign of an end to the stalemate.
Initiatives are still being taken by the world's major powers.
As Russia made a shift in its position at Deauville, the Libyan government says it needs clarification from the Kremlin, and will not accept any proposals from outside the African Union.
Khaled Kaim, Libyan Deputy Foreign Minister, said, "Since Russia is one of the international friends to Libya for more than 40 years now, we don't think that Russia will sway its position to be siding with the NATO. Our position is, anyone who wants to come up with a proposal, with initiative, with the idea, it has to come through the African Union, whether it's Russia or anyone else. "
But the opposition has welcomed statements from the G8 putting increased pressure on Muammar Gaddafi to go.
Abdel-Hafidh Ghoga, Vice Chairman of National Transition Council, said, "All of the G8 announced its support for the Libyan people in transition. Gaddafi must leave and the situation of the G8, all of them individually, is that Gaddafi must leave the Libyan people to create their own country and this is what we want."
Rebels also applauded the recognition from Jordan and Senegal of its National Transition Council, saying it has initially promised a referendum on constitutional and parliamentary elections.
Editor:Zheng Limin |Source: CNTV.CN