Watch Video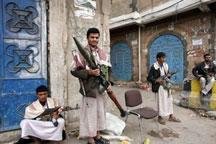 Play Video
Fighting in Yemen has entered a new peak after tribesmen opposed to President Ali Abdullah Saleh seized a military camp, prompting retaliatory airstrikes by government warplanes.
Protests and fighting that have rocked Sanaa for the past five days, have now spread beyond the capital.
One tribal leader says tribesmen opposed to the rule of President Ali Abdullah Saleh, have seized the Republican Guard camp some 80 kilometers northeast of Sanaa, and killed tens of troops.
But the government has fought back, launching airstrikes and reportedly killing 12 tribesmen.
The incident marks the most significant escalation yet outside the capital, and poses a new threat to the Yemeni President because of the enormous strength of tribal loyalties.
The Hashid group's northern-based tribes number hundreds of thousands, giving its leaders great power. And the head of the group made its stance known.
Sheik Sadeq Al-Ahmar, Head of Hashid Tribe, said, "We will not allow him to lead Yemen to civil war, he attacked our houses and we are steadfast. There are initiatives to stop this war. If he agrees to it we will agree. If not, we are ready to face the consequences."
No immediate government comment was available on the fighting.
Meanwhile, five huge explosions were heard late Friday in downtown Sanaa, followed by heavy gunshots.
It came just few hours after the opposition tribal leader claimed a tribal-mediated ceasefire had been reached.
Casualties from the explosions are still unknown. But at least 127 people have died this week in Sanaa as a result of street battles between security forces loyal to Saleh and tribal fighters.
Editor:Zheng Limin |Source: CNTV.CN