Watch Video
Play Video
Thousands of supporters have turned out to hear the opposition party's candidate for prime minister, Yingluck Shinawatra, at her first major rally in the Thai capital Bangkok.
Yingluck is the sister of ousted Prime Minister Thaksin Shinawatra and has been nominated by Pheu Thai Party as its candidate in the country's election.
Holding up one finger, representing her party's number on the ballot paper, Yingluck smiled, waved and stopped to speak to fans.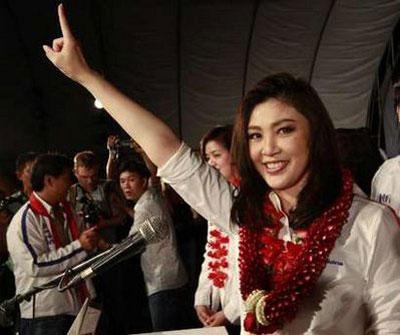 Yingluck Shinawatra, sister of toppled premier Thaksin Shinawatra
and the prime ministerial candidate for the country's biggest
opposition Pheu ThaiParty, greets her supporters during an election
campaign in Bangkok May 28, 2011. REUTERS/Sukree Sukplang
A newcomer to Thai politics, Yingluck is fast becoming a rising star in the July 3 election, drawing throngs of people and media alike, to her rallies in several parts of the country.
The ruling Democrat Party has not yet named its candidate for prime minister, but it is almost certain to be incumbent Abhisit Vejjajiva.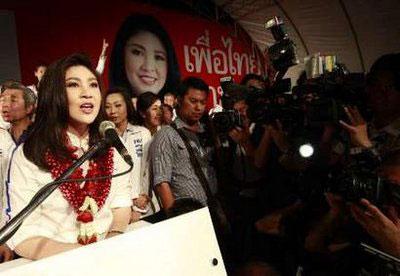 Yingluck Shinawatra, toppled premier Thaksin Shinawatra's sister
and the prime ministerial candidate for the country's biggest
opposition PheuThai Party, addresses her supporters during an
election campaign in Bangkok May 28, 2011. REUTERS/Sukree Sukplang
Yingluck Shinawatra, toppled premier Thaksin Shinawatra's sister
and the prime ministerial candidate for the country's biggest
opposition Pheu Thai Party, addresses her supporters during an
election campaign in Bangkok May 28, 2011. REUTERS/Sukree Sukplang
Related stories
Editor:Zhang Pengfei |Source: CNTV.CN