Watch Video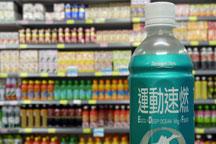 Play Video
Authorities in Shanghai and Jiang-su have urged local supermarkets to test their products amid concern that food and ingredients containing a plasticizing agent have reached the Chinese mainland from Taiwan. They are demanding all such products be taken off the shelves.
More than five thousand bottles of a sports drink imported from Taiwan have been found to contain the cancer-causing chemical.
On the list of ingredients, there is no sign indicating the agent has been added.
Wal-Mart, one of the two main supermarkets selling the drinks, has removed all the contaminated products and is waiting for orders on how to deal with them.
Lu Lei, Vide General Manager of Walmart, said, "The headquarters is waiting for the official request to deal with the products. We will follow the the guide, if we are asked to destroy them, we will do it. And if the drinks are recalled, we will send them all back."
Studio discussion: Root cause of food safety problems
For more on the toxic alert in Taiwan, we are joined in the studio by our current affairs commentator, Raymond Zhou.
Q1, Despite public criticism and the efforts of the government, food safety problems continue to occur in China. Is there a fundamental problem in the industry? More>>
So far, Shanghai authority has ordered all supermarkets to test their own drinks, removing all the products containing the agent.
In Kunshan, east China's Jiansu province, several kinds of Taiwan drinks are still on the shelves, including milk tea, coffee and fruit juice. Staff in the supermarket confirm they have removed all the drinks containing the agent. And some residents are fearful of buying such drinks.
Bian Huiliang, Customer Service of Darunfa Supermarket, said, "We have 98 bottles of 'Yes' sports drinks. And we have removed and returned them all."
A Kunshan resident said, "I don't dare to drink beverages, and I don't allow my child to drink them any more. I prefer to buy fruit and make my own juice."
Quality watchdogs at all levels are now stepping up the monitoring of Taiwan-produced additives and beverages.
Editor:Zhang Jingya |Source: CNTV.CN