Watch Video
Play Video
Muammar Gaddafi remains resolute to stay in power, despite NATO's campaign and attempted mediation by South African President Jacob Zuma. Amid growing concern in the UN over the conflict, a ceasefire seems far from being negotiated.
In Tripoli to mediate.
The South African President was trying to secure a ceasefire between Gaddafi forces and rebels.
The talks between Jacob Zuma and Gaddafi focused on solving the problems from within Libya and how to prevent foreign interests getting involved in the peace process.
But an exit strategy for the embattled Libyan leader was not on the table.
Moussa Ibrahim, Libyan Government Spokesman, said, "Mr. Zuma praised the leader for his position and for accepting the African road map to save Libyan blood. He praised his (Gaddafi) resilience against the NATO attacks, he never discussed any exit strategies as they have been called in the media."
However, Gaddafi's departure is the key demand of NATO and rebel forces.
The opposition has already turned down the African Union's initiative because of Gaddafi's refusal to relinquish power causing concern for the United Nations.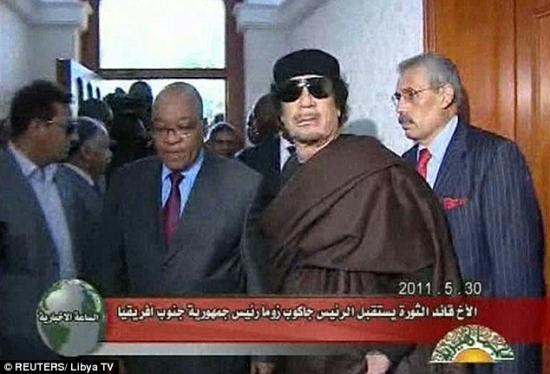 Just hours after the talks between the two leaders NATO's secretary-general said the Libyan leader's "reign of terror" was coming to an end.
Lynn Pascoe, Under Secretary General, UN Political Affairs, said, "The parties in Libya remain far apart on even beginning negotiations to resolve the conflict. The Libyan government has repeatedly called for a ceasefire, including an end to NATO operations as a prerequisite to negotiations. For its part the TNC (Transitional National Council) maintains that negotiations on a cease fire on related aspects can only start with the removal from power of Colonel Gaddafi and members of his family."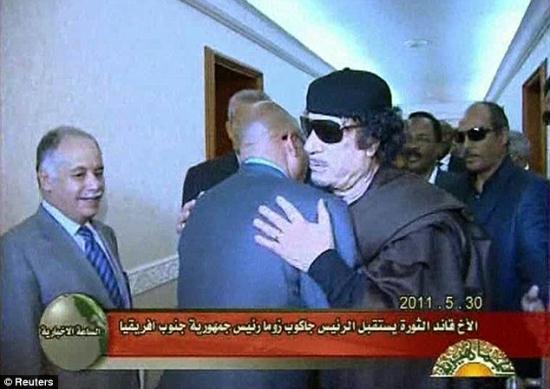 Libyan state television showed Muammar Gaddafi hugging South African President Jacob Zuma following talks to broker a possible truce.
Zuma is calling for a halt to NATO airstrikes, saying the Alliance has overstepped its UN mandate to protect civilians.
Military forces from both sides are battling on, while NATO continues to bomb Tripoli.
For the time being, little seems to be changing in Libya.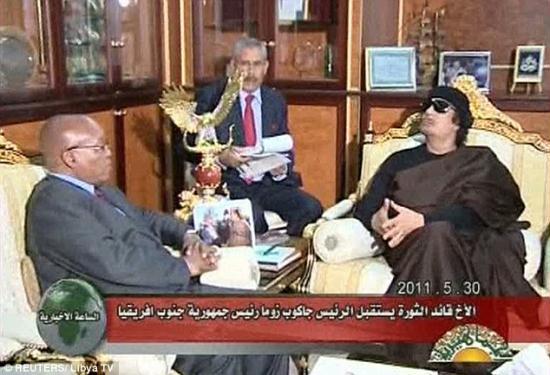 Gaddafi talks with Zuma at an undisclosed location. It was the first time the tyrant leader has been seen by the world since May 11.
Editor:Zhang Jingya |Source: CNTV.CN