Watch Video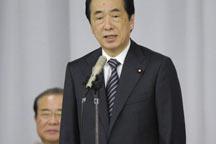 Play Video
Japanese Prime Minister Naoto Kan has survived a no-confidence vote, after offering to step down once the nuclear crisis and quake reconstruction are under control. Lower house lawmakers voted 293 to 152 against the motion. However, this has caused friction within the ruling party. And as Terrence Terashima reports, who will succeed Naoto Kan will be the next focus.
The non-confidence motion was rejected with a clear majority. However, Japanese public interest was low. Many point out that it only increased political apathy. A lose-lose situation said some experts. What is clear, is that Japan will have yet another Prime Minister after a single year.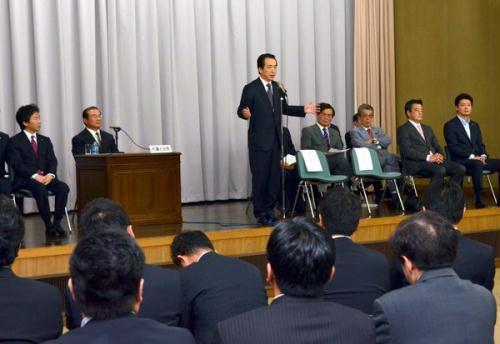 June 2nd, 2011, Tokyo, Japan - Japans Prime Minister Naoto Kan addresses a meeting
of the ruling Democratic Party of Japan in Tokyo on Thursday, June 2, 2011. Kan told
the meeting that he might step down at some point in the future after overseeing
post-earthquake reconstruction efforts. Kan, who has been criticized for not acting
fast enough on the crisis in the wake of March 11 earthquake and tsunami, survived
a no-confidence motion in parliament later in the day. (Photo by Natsuki Sakai/AFLO)
"I think it is a good thing that it was rejected. We are faced with a huge crisis and They should know this is not the time for a political power game"
The question remains on who would take Kan's place at the helm of the Democratic Party Japan and when. DPJ sources say it could be as early as End of June or early July. Once outline for the 2nd supplementary budget is made. Former Prime Minister Yukio Hatoyama said he hope the next leader would be able to bridge differences with the opposition parties for faster reconstruction efforts.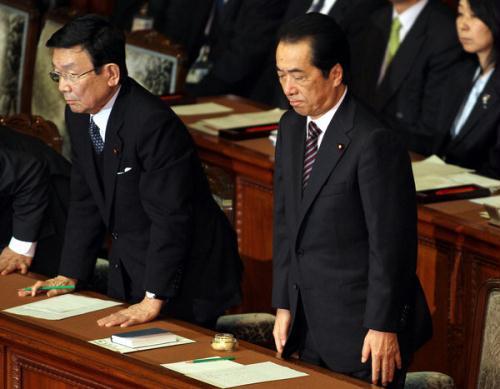 Naoto Kan, Japan's prime minister, right, and Kaoru Yosano, Japan's minister of
economy and fiscal policy, stand to leave a meeting at the Lower House of the Diet
in Tokyo, Japan, on Thursday, June 2, 2011. Kan survived a no-confidence vote after
appealing to ruling party dissidents by offering to resign once the country's worst
crisis since World War II is under control. Photographer: Haruyoshi Yamaguchi/
Bloomberg via Getty Images
Professor Jeffrey Kingstone, Temple University said "Probably Okada, is in the position to do so. He is currently the secretary general of the party and previously he ran as a candidate against Koizumi. He is well respected. he does not have fire in the bellies and he is not that charismatic, but he is respected so he is a possible candidate."
The public interest is clear. Faster recovery from the disasters and rehabilitation of the of the battered economy.
"I can do without things like the child benefits now. I want the government to concentrate on the reconstruction efforts and see result"
However, some still warns of possible future political tugs of war, once dust settles with the current disaster bills. Slowing down yet again essential policies for an economic recovery.
Professor Jeffrey Kingstone said "It can't get much worse than the current situation where nothing happens in the diet. Huge vacuum at the center while Japan's immense problems continue to fester."
The vote for non confidence motion is a turning point for the domestic policy making. However, some experts fear that Japan's diplomacy looses credibility, knowing that the Prime Minister is going to step down.
Editor:Xiong Qu |Source: CNTV.CN