Watch Video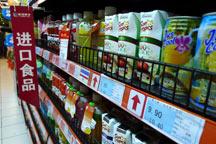 Play Video
It has been over a week since the plasticizer DEHP was found in Taiwan drinks. To date, the scandal involves 747 products from 217 beverage companies.
Taiwan authorities have toughened regulation on food safety, severely punishing those who produce and sell tainted food and drinks. The new regulations raise the fine on DEHP-related cases from 300-thousand New Taiwan dollars to as much as 6 million. Cases causing great bodily harm could bring an additional fine of up to 10 million New Taiwan dollars, and a 3-to-5-year jail term.
The toxic drinks have already made their way to 15 countries and regions. The Chinese mainland, the US and the European Union have banned beverage imports from Taiwan. It's estimated Taiwan's food industry will suffer huge economic losses, amounting to 15 billion New Taiwan dollars. That's nearly a third of last year's revenues, the worst drop in the island's history.
Related stories
Editor:Xiong Qu |Source: CNTV.CN