Watch Video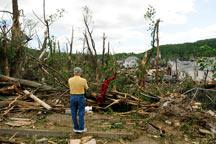 Play Video
The sight of flattened homes, peeled-off roofs and widespread damage stunned New Englanders after deadly tornadoes swept through Massachusetts. The twisters struck an area of the country that rarely sees such severe weather.
Springfield, a working-class city of about 140-thousand residents, was particularly affected by the tornadoes.
The storms, which came with fair warning but still shocked with their intensity, killed at least three people, injured about 200 and wreaked damage in a string of 18 cities and villages across central and western Massachusetts.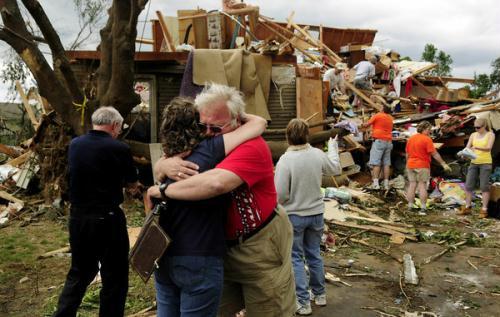 Russell Bressette gets a hug from his boss, Michelle Loglisci, of Monson,
Massachusetts, on Thursday, June 2, 2011, outside the wreckage of his home near in
Monson the day after a tornado tore through the area. (Bettina Hansen/Hartford
Courant/ )Photo via Newscom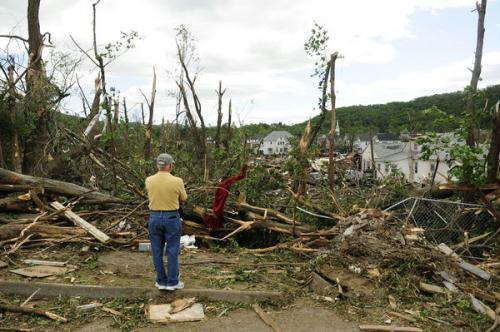 A resident, whose home was not destroyed, surveys damage in Monson, Massachusetts on
Thursday, June 2, 2011, after a tornado swept through the area late Wednesday
afternoon. (Bettina Hansen/Hartford Courant/ )Photo via Newscom
If it is deemed that Wednesday's three deaths were tornado-related, it would bring the year's US Tornado related death toll to 522 and make this year the deadliest for tornadoes since 1950.
One resident summed up the mood of so many, "devastation."
Peter Williams, Springfield resident said "Never seen nothing like this before. Strange, devastated."
In Springfield residents were left to salvage what they could as some properties were completely flattened, some were missing roofs and some houses were open to the elements after their walls had been ripped away from their foundations.
Another city resident described the chaotic scene.
June 1, 2011, Boston, Massachusetts, USA: Tornadoes roared through
Massachusetts, packing violent winds that caused damage in about
two dozen communities, ripping off roofs, uprooting trees,
scattering debris and leaving at least four dead throughout the
state.Credit: Mark Garfinkel / Boston Herald / Polaris
Springfield resident said "I watched this house come off its foundation and slam into these trees, in my car. I have no voice because I was screaming so much."
The governor, who declared a state of emergency allowing officials to sidestep usual regulations to provide quick relief, pledged that the state would throw all its resources behind recovery and that federal disaster assistance would be sought.
Police and National Guard troops went door to door in Springfield to check for any residents who were injured or otherwise needed help. The police chief confirmed reports of looting and other crimes, but no arrests were made.
Tens of thousands remained without power in the region.
Editor:Xiong Qu |Source: CNTV.CN