Watch Video
Play Video
The Venice Biennial gets under way this week, drawing crowds of art lovers from all over the world. It's one of the biggest event on the art calendar and every two years it packs in more countries and artists with all of them vying for attention.
This week, hordes of art lovers are descending on Venice to indulge in the biggest contemporary art festival in the world.
The Venice Biennial is the place to see and be seen in the art world, and to grab attention if you can.
Every two years, more than a quarter of a million art lovers converge on the city, crisscrossing bridges and canals to seek out all that's new and controversial in contemporary art.
This is the 54th edition of the Biennial. Aside from a few wartime cancellations the Venice Biennial has run continuously since 1895.
Step right up ... the tank-turned-treadmill at the Biennale. Photo: AP
The art is arranged by country, many with permanent national pavilions in the area known as the Giardini.
There are 89 countries taking part this time around with Haiti, Bangladesh and Saudi Arabia among the newcomers.
Every conceivable style of art is on show - much of it edgy, and some of it difficult to interpret.
The official national pavilions are just the start. Fringe events and installations spring up everywhere in Venice. It seems, every available space in the city is hijacked in the name of art.
The Venice Biennial is open to the public for five months beginning on Saturday.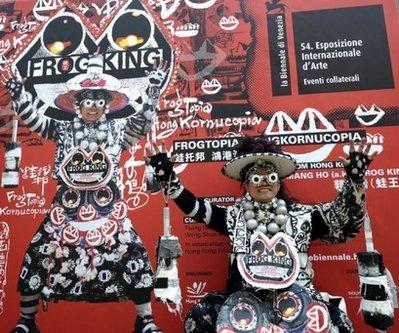 Chinese artist Kwok Mang Ho performs during the 54th International
Art Exhibition in Venice. The City of Water has been transformed
into a City of Light for the prestigious Venice Biennale contemporary
art festival starting Saturday, where 83 artists and 89 countries
are represented. (AFP/Filippo Monteforte)
Editor:Du Xiaodan |Source: CNTV.CN