Watch Video
Play Video
Yemeni President Ali Abdullah Saleh has delivered a radio message after being wounded when opposition tribesmen hammered his palace with rockets. Saleh called on the military to confront the tribal fighters.
The government had promised President Saleh would appear on TV, but all that aired was a radio address, with one of his old pictures. Saleh was reported to have spoken in a labored voice, breathing heavily at times.
The president was wounded when opposition protesters struck the mosque where he and other officials were praying. Seven guards were killed, and eight officials wounded.
The Deputy Information Minister had said Saleh had only minor injuries.
Abdu Al-Janadi, Yemeni Deputy Information Minister, said, "President Saleh is in a good health. The planned scheduled press conference of President Saleh is postponed because of scratches on his face and he will appear soon to the public and the world."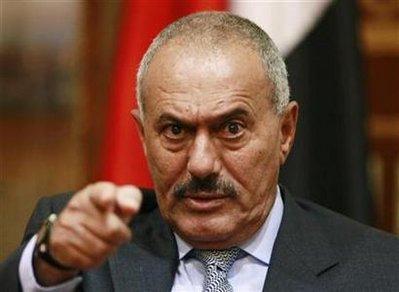 Yemen's President Ali Abdullah Saleh points during an interview
with selected media, including Reuters, in Sanaa May 25, 2011.
REUTERS/Khaled Abdullah
Meanwhile, explosions were heard in the southern city of Taiz. Some reports say three policemen were killed and 28 were wounded in clashes with protesters, while others say troops fired on anti-government protesters, wounding two.
The violence has escalated into a fight for power between two of Yemen's most powerful families: Saleh's and the al-Ahmar family, which leads Yemen's most powerful tribal confederation, the Hashid.
Saleh has agreed three times to sign onto a US-backed, Gulf Arab-mediated agreement to leave power in 30 days, but each time he backed out at the last minute.
Editor:Du Xiaodan |Source: CNTV.CN