Watch Video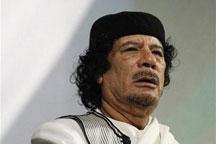 Play Video
Libyan leader Muammar Gaddafi has vowed in an audio speech on state television that his people will fight to the end. The address came after NATO intensified air strikes on the capital Tripoli.
Libyan state television also broadcast images of a meeting between Gaddafi and tribal leaders on Tuesday at an unidentified location. During the meeting, the participants listened to the audio speech by the Libyan leader, in which he attempted to rally his supporters. Gaddafi said he is ready to unleash 250,000 armed Libyans across the country to cleanse the eastern region of rebel forces and reunite his country. Gaddafi was last seen on state television on May 30th in footage of him meeting South African President Jacob Zuma.
He said, "We will not give up. We have only one choice which is to stay in Libya and either live or die. We will not surrender. NATO has to leave, not us. You should go back to your country and ask forgiveness from God. But we only have one choice: we will stay in our land dead or alive."
Editor:Zhang Jingya |Source: CNTV.CN