Watch Video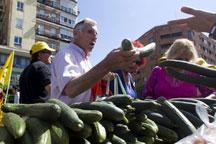 Play Video
In Spain, fruit and vegetable growers are suffering great financial losses over Germany's allegations cucumbers were the source of the E.Coli outbreak. The accusation also affected vegetable sales in other European countries. Now angry farmers across the continent are fighting to restore the damaged reputation of their produce.
The fight back begins. Free fruit and vegetables are handed out in Madrid in a bid to restore confidence in the produce. Growers say they've lost 200 million euros in sales since Germany wrongly linked their cucumbers to an E.coli outbreak in the country.
A farmer from Madrid said, "The crisis has badly affected us. In Almeria we had about a month and half crop production left but that has now gone to pot. We have had to destroy the crop the end of the season has been totally ruined and now their is uncertainty about the next season which starts in October."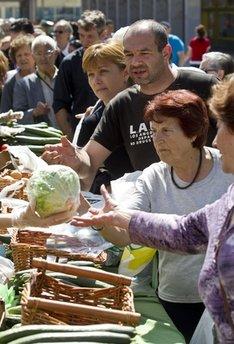 Free fruit and vegetables are handed
out to the public in Madrid Wednesday
June 8, 2011.
The giveaway called "40,000 kilos of health" was organized by an umbrella organisation for the Spanish agriculture and farming industry.
President of Coag in Extremadura Juan Manuel Campillejo, said, "We are suffering enormous consequences in the entire sector. We are losing thousands, hundreds of thousands of euros daily - every minute, every hour, as there are some products like fruit where collection is just beginning. The prices have decreased sharply and orders are being cancelled - all because of irresponsible information about a vegetable and a virus by a regional German government."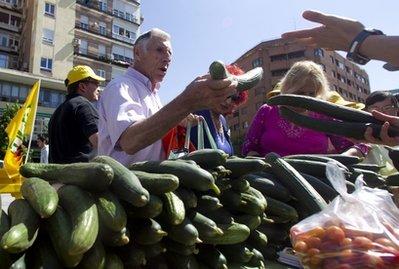 A man collects free cucumbers in Madrid Wednesday June 8, 2011.
Spain's farmers aren't alone - growers across Europe are suffering.
The French Vegetable Association organized a protest march through Paris over what it calls the false stigmatization of their produce.
Jacques Rouchausse, Chairman of French Vegetable Association said, "The main thing is to restore consumers' confidence in French produce, French cucumbers, French tomatoes etc. Handing out aide isn't the answer, if consumption does not start again tomorrow the farms will die."
The German authorities say they believe the infection rates from the deadly strain of E.coli will now drop. But the outbreak has now claimed 24 lives and authorites are no closer to identifying the source of the outbreak.
Editor:Zhang Jingya |Source: CNTV.CN