Watch Video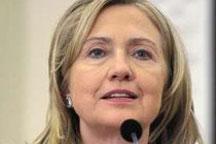 Play Video
At the end of her three-nation African tour, US Secretary of State Hillary Clinton has addressed the 53-member African Union. She urges them, many with longtime diplomatic and financial ties to oil-rich Lybia, to support its leader Muammar Gaddafi to exit.
She said, "I also urge you to suspend the operations of Gaddafi's embassies in your countries to expel pro-Gaddafi diplomats and to increase contact and support of the transitional council."
This is the first time that a US Secretary of State has addressed the AU. She commended the African Union's Peacekeeping Mission, saying that thanks to their efforts in the Somali capital, Mogadishu, "al-Shabab, an affiliate of al-Qaeda, is finally on the defensive."
She also said earlier during a stop in Tanzania that the US supports putting Ethiopian peacekeepers in Sudan's Abyei region. Diplomats say Sudanese President Omar Hassan al-Bashir has agreed to pull out troops out of the disputed border region of Abyei before the south secedes.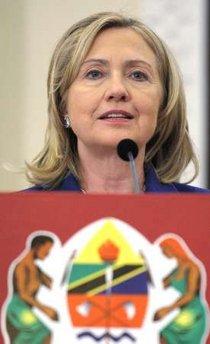 United States Secretary of State
Hillary Clinton speaks during a
press availability with Tanzania's
President Jakaya Kikwete at the
State House in Dar es Salaam June
13, 2011. Clinton will urge the
African Union to get tougher on
Libya on Monday, hoping to push
Africa's leaders into a firmer
stance on the ousting of Libya's
Muammar Gaddafi.REUTERS/Susan
Walsh/Pool
Related stories
Editor:Zhang Jingya |Source: CNTV.CN