Watch Video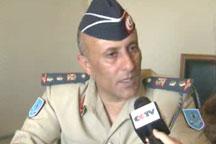 Play Video
With NATO's airstrikes on Libya now going on for almost three months, the opposition has been approaching the capital Tripoli from several fronts. CCTV has interviewed the opposition spokesman, Colonel Ahmed Omar Bani.
Bani says the opposition has conquered three cities, 200 kilometers south of Tripoli. The northern front is tougher, with forces loyal to leader Muammar Gaddafi, as fighting is still going on to control Brega and Ajdabiya.
The opposition now lacks weapons and professional military personnel. However, NATO's decision to extend its military action by a further 90 days and provide necessary resources is good news for the opposition. With the assistance, the stand against the Gaddafi is getting tougher.
Gun battles between Gaddafi's troops and opposition fighters in the country's northwest, have killed at least 8 rebels, and wounded 13 more. One insurgent soldier says the ongoing clashes started Friday. Authorities in Tripoli have made no immediate comment.
Editor:Xiong Qu |Source: CNTV.CN