Watch Video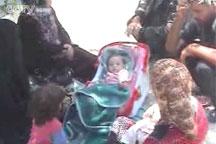 Play Video
In Syria the continuing military advance has driven thousands of civilians flee across the border into Turkey seeking refuge. However, with the refugee camp becoming a no-go zone, they are starting to miss home.
The Syrian army has extended its military crackdown and advanced towards the Turkish border. Displaced people have to move quickly in order to keep one step ahead. The journey is certainly tough without the basic guarantee of food and water. But it can be even more devastating if a family member is missing.
Syrian refugee said "All I want is to know where my son is. I've asked all the army people, all the colonels and generals, but they just tell me to check at the sugar factory. But I'm scared to go there".
The sugar factory she refers to has been turned into a detention centre in Bdama, a town that was spinning out of government control before the military recaptured it last week. The military crackdown here started nearly two weeks ago, displacing thousands of people, including more than 10 thousand sheltered in Turkish refugee camps.
This is Hacipasa, on the Syrian-Turkish border where the Turkish government has set up camps for Syrian refugees. Not only is food and water provided, there is also a place for them to pray. Despite this, refugees are not allowed contact with the outside world. When reporters try to approach the camps, they are stopped by guards, and can only take a glimpse of life inside the camp from outside.
There are now 97 hundred refugees in Hacipasa. When they see reporters, they wave the Syrian national flag and cry "freedom". They also express their wish to go back to their own country. So far, 35 Syrian refugees, including 4 women, have gone back. But for many more, home is still a long way away.
Editor:Xiong Qu |Source: CNTV.CN