Watch Video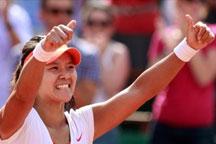 Play Video
Li Na's first Grand Slam title for China and Asia marks a milestone in tennis history. She has become the sports face of China. She is currently ranked World No. 4 by WTA. Starting with her run to the finals at the Australian Open to her victory at the French, Li will start her Wimbledon journey on Tuesday.
Li Na is the leading figure of Chinese tennis, and is setting new marks every time she takes the court.
In 2011 Australian Open, where she started out as the 9th seed, Li became the first Chinese player to make it all the way to a Grand Slam final.
Despite being the runner-up, Li Na's ranking rose to a career high of number 7 in the world.
And this summer more glory comes, Asia's newest sports superstar grabbed the spotlight in Paris. She defeated defending champion Francesca Schiavone in the women's singles final. The 29-year-old won the first Major tournament title for China and Asia, and realized a dream come true on the red clay of Roland Garros.
The French Open champion goes down in history as the first Chinese to engrave her name on a Grand Slam trophy which gained her much attention from the media all over the world.
Not only in the tennis court, Li was also very confident in the fashion field. She participated a party before the Wimbledon.
Li Na said, "It's totally different (now) because it changes. Now, opponents see you differently. They say "Now you are champion of Grand Slam."
This time at the All England Club, the new crowned French Open champion wanted to prove herself one more time in the Wimbledon court.
Editor:Shi Jierui |Source: CNTV.CN