Watch Video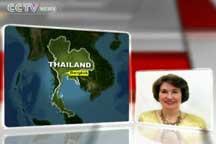 Play Video
For more on World Refugee Day, we are now joined on the phone by Kitty Mckinsey, spokesperson for the United Nations High Commission for Refugees, Asia Region. Hello, Kitty.
Q1: What's the theme of this year's World Refugee Day and what sort of events are being held ?
Q2: As political unrest spreads across the Middle-east, there are increasing numbers of refugees from countries like Libya and Syria. Are these new refugees receiving special attention from the UNHCR this year ?
Thanks very much. That's Kitty McKinsey from UNHCR.
UN High Commissioner for Refugees says developed countries should take more responsibility
In an exclusive interview with CCTV, the UN High Commissioner for Refugees, Antonio Guterres says developed countries should take more responsibility on the issues coming out of the Middle East unrest. <Full story>
Syrian refugee camps open to journalists
The Turkish Foreign Ministry has organized a media tour of the Boynuyogun Camp, where scores of Syrians have taken refuge, after fleeing their homes to escape a military crackdown. <full story>
UN refugee chief visits camp for Libyan refugees in Tunisia
The UN High Commissioner for Refugees has visited a refugee camp in Tunisia. It's Antonio Guterres's second trip to Tunisia in two months. <Full story>
Humanitarian crisis looms large at Benghazi refugee camps
The 2-month long conflict in Libya has created a large number of refugees. Many of them have fled battle-torn areas to the eastern rebel stronghold of Benghazi. <Full story>
Editor:Zhang Pengfei |Source: CNTV.CN