Watch Video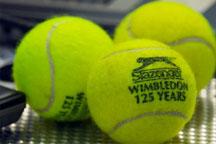 Play Video
This year marks the 125th anniversary of Wimbledon. The Grand Slam tournament at the All England Club is the corner stone of modern tennis as Peter Kovoes explains.
The Wimbledon Championships or simply Wimbledon, is the oldest tennis tournament in the world and is considered by many to be the most prestigious.
It has been held at the All England Club in the London suburb of Wimbledon since 1877. It is one of the four Grand Slam tennis tournaments and the only one still played on the game's original surface, grass, which gave the game of lawn tennis its name. Wimbledon's Centre Court is the only court among the four grand slams to have a retractable roof to prevent rain delays.
Wimbledon traditions include a strict dress code for competitors, the eating of strawberries and cream, and Royal patronage.
Prize money was first awarded in 1968. For the 2011 Championships the total prize money will be 14.6 million pounds. Both male and female singles champions will get 1.1 million pounds. And the winners will gain 2000 points in the ATP and WTA rankings.
In recent history, Swiss Roger Federer is the winner of the most consecutive men's single titles in the 21st century.
American sisters Serena and Venus Williams are most successful in recent memory winning 9 Wimbledon crowns.
The longest match in tennis history at the All England Club was played last year between John Isner and Nicolas Mahut, with Isner winning 6-4, 3-6, 6-7, 7-6, 70-68 in a first-round match that stretched over three days.
Editor:Shi Jierui |Source: CNTV.CN