Watch Video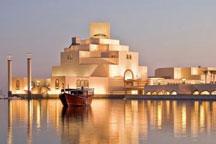 Play Video
The Qatari capital Doha is home to the Museum of Islamic Art. Many consider it the city's most impressive structure. It was designed by the Chinese-American architect I-M Pei, often called a master of modern architecture.
The striking museum, based on the Ahmed Ibn Tulun Mosque in Cairo, rises magnificently from Doha's shimmering harbor. It was built on 64 acres on an island approximately 195 feet off Doha's Corniche and surrounded by a park.
The result is an imposing white museum, consisting of a blend of modern and traditional styles. The outside in cubic shapes, which descend from the dome in changing geometric patterns, are an intermix of sun and shadow. The interior features grey Porphyry stone and Brazilian lacewood. The lights are kept low to protect the treasures within.
The museum showcases artifacts that the Al Thanis - Qatar's Royal Family - have been collecting for many years. Exhibits include a panel lined with gold thread that decorated the imperial tents of Iran and Central Asia in the 13th century. There's also a curtain decorated with calligraphy that lined the walls of Al Hambra in 15th century Muslim Spain.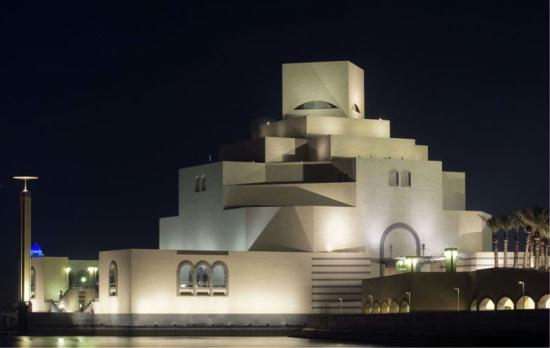 Museum of Islamic Art
Mr. Obyda, a teacher of Islamic Art Center, said, "The Chinese and Arabic Calligraphic traditions are often compared as the two are the world's finest manifestations of the written word. Chinese calligraphy has absolutely stunning features. Although we can't read Chinese, the beauty of Chinese calligraphy is very similar to Arabic calligraphy. Chinese people can sense Arabic calligraphy too."
One of the most intriguing exhibits is called the Book of Secrets -- an 11th century manuscript dealing with alchemy. The book is not a permanent exhibit; however, a team of experts in Doha has been working on deciphering the contents.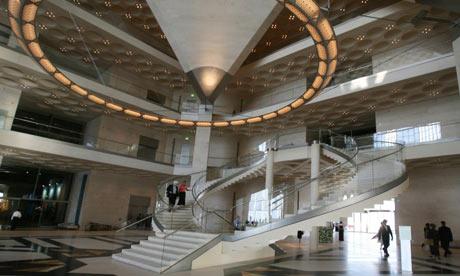 The new Museum of Islamic Art illustrates 1,100 years of culture.
Editor:Shi Jierui |Source: CNTV.CN