Watch Video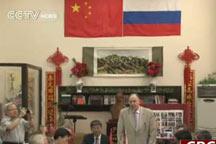 Play Video
The Russia-China Friendship Association and the Far-East Region Studies Institute of the Russian Academy of Sciences have met to celebrate the 90th anniversary of the founding of the Communist Party of China.
Zhang Haizhou, charge d'affaires of the Chinese Embassy in Russia was present at Thursday's meeting.
Mikhail Titarenko, Chairman of the Association, also Director of the Far-East Studies Institute gave a speech, saying the CPC is now the largest and most influential party in the world. He also praised the CPC for bringing rapid economic development to China and improving people's lives.
Other famous Russian scholars also took part in the talks. They expressed their best wishes to the CPC and also hoped that the friendship between China and Russia will be enhanced in the future.
Editor:Liu Fang |Source: CNTV.CN