Watch Video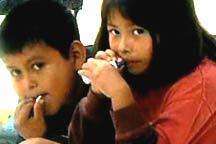 Play Video
Residents living in Veracruz are trying to hide from torrential rains left by Arlene, the tropical storm drenching Mexico's Southern coasts and heading further inland.
Four hundred shelters across the state are on stand-by as authorities evacuate the worse hit areas. The US National Hurricane Center has downgraded its earlier hurricane warning for Arlene to a tropical storm warning. Strong winds and rainfall of 10 to 20 centimeters are expected to batter the eastern states of Tamaulipas, Veracruz and eastern San Luis Potosi and reach Mexico City Friday. Mexican officials are still advising communities in its path to evacuate.
Maria Teresa Dura, General Director of DIF Family Services, said, "At the moment, we have 62 people staying in shelters. They live in Barra de Galindo and San Antonio. They came here due to the onslaught of the storm. It was better to evacuate them so that they would not be affected at home."
Editor:Zheng Limin |Source: CNTV.CN