Watch Video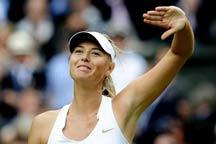 Play Video
Cloudy skies but no rain at Wimbledon on Thursday as the women's semi-final got underway on Centre Court. We begin with the favourite to take the title...Maria Sharapova, the 2004 champion, yet to drop a set at the All England Club this year...up against German wild card Sabine Lisicki, who knocked out Li Na in the second round.
Sharapova, the number five seed got of to a terrible start, going 3-0 down after only seven minutes of play. However, Sharapova slowly got her game together and Lisicki seemed to freeze under the intense Centre Court pressure.
Sharapova broke back to level at three games all and then at 4-4, she would move ahead in the ninth game as Lisicki hit a backhand beyond the baseline.
The tide was certainly turning and the three-time major winner duly took the first 6-4 after 43 minutes.
Related stories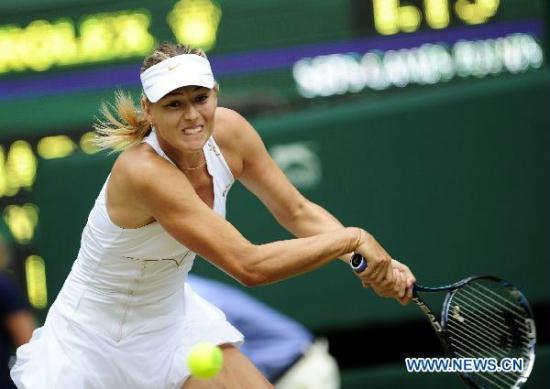 Maria Sharapova of Russia returns a shot during her semifinal match against Sabine Lisicky of Germany in 2011's Wimbledon Championships in London, Britain, June 30, 2011. Sharapova won 2:0 to enter the final. (Xinhua/Zeng Yi)
Lisicki offered only the occasional flash of the ability she showed in putting out French Open champion Li Na and number nine seed Marion Bartoli in earlier rounds, but did claw her way back from 1-5 to 3-5 in the second set.
However, Lisicki could't turn the match in her favor and was ultimately overwhelmed by Sharapova, who moved into the final,6-4, 6-3. Sharapova...will now play for her second Wimbledon title, her first coming back in 2004 when she was only 17.
Maria Sharapova, 2011 Wimbledon Finalist, said, "It is a great feeling. It has been many years but it is a really great feeling. Today wasn't my best match of the Championships. I was really happy to get through in two sets. But yeah, it is pretty amazing to be back on that stage."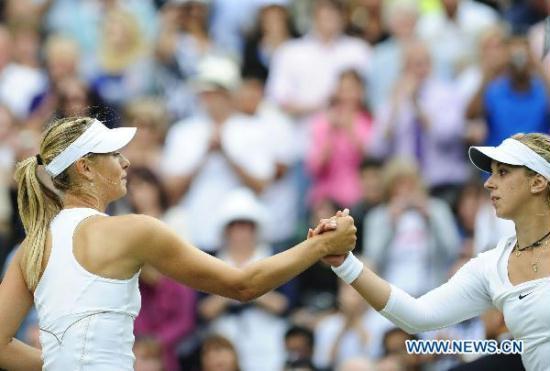 Maria Sharapova of Russia (L) and Sabine Lisicky of Germany shake hands after their semifinal match against Sabine Lisicky of Germany in 2011's Wimbledon Championships in London, Britain, June 30, 2011. Sharapova won 2:0 to enter the final. (Xinhua/Zeng Yi)