Watch Video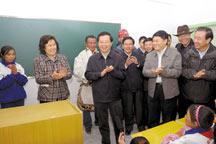 Play Video
A year ago in May, Yushu County in northwest China's Qinghai province was torn apart by a 7.1-magnitude earthquake. A boarding school that is a part of reconstruction projects has now been put into use.
This boarding school in Yushu county opened just days ago, completed in less than a year after the quake.
It's five times the size of the original, and can accommodate over 1000 students. About 300 will be boarders. For the students who've been studying in tents and living in pre-fab houses, it's a great day.
Emergency preparedness was incorporated into the design of the school, as well as features for daily student life.
Gu Xin, deputy general manager of Beijing Architectural and Engineering Design Co., said, "We've widened the aisles, not just for evacuation, but also to give students more space to play, especially in winter. Wide windows on two sides are good for lighting."
The appeal of the new school is not just for the students. For local residents, it's one of many reconstruction projects that signals the beginning of a new life, and a better future.
Editor:Liu Fang |Source: CNTV.CN