Watch Video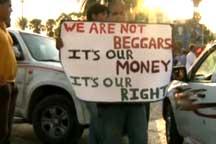 Play Video
Libya rebels have been short of money since war. After opposition leaders called on help from the western countries, civilians in Benghazi have also joined the march appealing for aids.
Ambulance staff and airlines cabin crew have showed up in Friday's march for the first time. The demonstrators said hospitals, schools and airport are running out of money to pay their staff. Even if they could, the chance of cashing pay checks is also small because of banks' withdrawal limits. The restrained money flow has also led to food, medication and fuel shortage. Last month, the British has offered 100 million US dollar to the country, still much under the NATO and Arab's promise of 1.3 billion US dollar.
Abdul Hafiz Ghoga, Vice President of the Libyan National Transitional Council, said, "We are still worried about capital shortage. We are in desperate need of money to buy medicines, for there are people wounded in hospitals. We also need food and fuel."
Editor:Zheng Limin |Source: CNTV.CN