Watch Video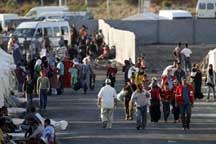 Play Video
Syrian refugees are continuing to pour over the border into Turkey due to the continuous unrest in Syria.
This village, a base for makeshift refugees camps, it straddles the Syria-Turkey border. It is heavily guarded by Syrian military. There are about 200 people living in the village, with most of residents's identifications unclear. Military authorities believe some rebels are living here, but they cannot cross the border without agreement from Turkey. Only the Red Crescent is the is the only allowed to enter the village.
Abdul Rahmar Al-Attar, Syrian Red Crescent, said, "We've been trying to come close to those camps, but they throw stones at our vehicles and shoot into the sky, so there is a lack of security. We have asked Turkey to let us help those refugees come home, and they said they will reply soon."
Despite the fact that many refugees have fled to Turkey to seek protection from its more powerful army, some still choose to stay on Syrian-side of the border, preferring to remain on Syrian soil as long as possible. Most of them are the elderly and children. Their daily life can be guaranteed as staples are delivered.
Refugee, Syrian Village, said, "Some come to other cities, some to Turkey, we're safe now, I hope that they could come back safely,no disturbance, and normal life can resume soon. "
The number of Syrian refugees has exceeded ten-thousand, more are congregating near the border on the Syrian side.Syrian military have deployed troops in the village for rule and order, to guard against rebel forces.
Editor:Zheng Limin |Source: CNTV.CN