Watch Video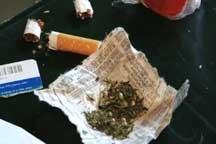 Play Video
South African health authorities say there's growing concern over a new lethal drug that's spreading around the country. It's called Nyaope (Ni-A-O-Pe), which means mish-mash, and refers to the combination of marijuana and the highly-addictive drug, heroin.
Anti-drug activists say the combination of drugs on South Africa's streets, particularly in the townships, are getting more lethal.
And the users are getting younger.
Now they're experimenting with Nyaope, which some are calling the 'new killer
On the block.'
Sebelelo Tseeke, Social Worker, said, "The majority of people who use Nyaope are youth... Teenagers and learners institutions. Er, the age of abuse starts at around 12 to 16 years. That's the age of experimentation. However, lately we've seen children as young as 10 years abusing this substance... There are older people that start experimenting later in life. There are various reasons for that. But mainly with Nyaope, it's the youth that use it mainly."
Former Nyaope addict Bongani Khumalo said he started using Nyaope when he was a schoolboy.
Bongani Khumali, Ex-addict, said, "The feeling I got when I was smoking marijuana, I didn't get high, the way I wanted to get high. But when I started to smoke Nyaope, I get higher than the way, even beer or anything else doesn't get you high like that."
Dave Bayever, Central Drug Authority, said, "The problem that we have of course is that when you're buying it on the street you never know exactly what it is you're buying. Nyaope, with the heroin is usually of a very poor grade because the heroin has been adulterated in such a way that it goes further and obviously makes it much cheaper for the person selling it..."
Rene Del Carme, Johannesburg, said, "Users of this lethal drug cocktail say they use it because it's cheap, easily accessible and gives them a much stronger high."
Dave Bayever, Central Drug Authority, said, "It is becoming very very popular, because of the added effect that it has using the two in combination, as opposed to just marijuana on it's own. Heroin on it's own would be more expensive. But because it's mixed with the cheaper ingredient, being the marijuana, it makes it at a street level much cheaper to get hold of and much easier to get hold of."
Marijuana and heroin are both sedatives, which are highly addictive. Bongani says he was so addicted to Nyaope that he turned to crime in order to
feed his habit.
Bongani Khumalo, Ex-addict, said, "I was a criminal before... I jumped through my neighbour's house and took his cellphone because I didn't have money to buy Nyaope, heroin. So I jumped through the fence and go steal the cellphone and go sell it for Nyaope.
"You know, Nyaope affects all aspects of a person's life. The physical aspect, the health is affected, emotional aspect because the person feels demotivated. Social aspects, family relationships become strained. Friends... People lose friends that don't use. They only remain with friends that are Nyaope users." Sebelelo Tseeke said.
Bongani has been In rehab for several Months, trying to Stay clean so That he can
Find a job.
Ex-addict Bongani Khumalo said, "Now I feel good because I've got my life back... Now, they say, hey you are a different guy. You're a decent guy. You must stay like that, because you're looking so nice and everything is OK with you."
The South African government and it's drug rehabilitaion partners say they're preaching drug prevention. Because, the reality is, there are not enough rehab centres in the country to treat the growing number of addicts.
Editor:Zheng Limin |Source: CNTV.CN