Watch Video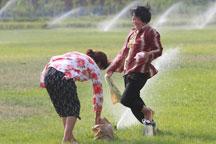 Play Video
Large parts of China are expected to be hit by severe weather in the coming days. Beijing and Shanghai are expected to endure a heat wave, while cities in East China are forecast to see rain.
Weather experts say recent torrential rainfall in Beijing is normal this time of year, and that residents should be prepared for humid weather that is expected next week.
Guo Jinlan, Beijing Meteorological Bureau, said, "Beijing is currently under the north side of the clouds bringing rainfall, instead of right under it, so it won't bring Beijing lots of rainfall. So on Sunday and Monday, there won't be obvious precipitation."
Despite forecasts of little rain, authorities are warning that humidity and temperatures will climb, and that people should take precautions against heatstroke.
In Shanghai, residents are bracing for what will be the most intense heat wave this year. The local meteorological center has issued an orange heat warning, cautioning that temperatures will hit nearly 38 degrees Celsius. But rainfall is expected to cool the city on Monday.
In Jinan, the capital of Shandong Province, heavy rainfall swept across the city Saturday. Many roads were flooded, causing headaches for pedestrians and drivers.
Taxi Driver, said, "My car has been waiting up there for 40 minutes. The water is too deep, as high as 20 centimeters. And it entered into my car and turned it off. Every year we face the same circumstances during the flood season."
The local meteorological center forecasts that more heavy rainfall will be coming in the following days, which will pose a big challenge to the city's sewer system.
Related stories
Editor:Zhang Pengfei |Source: CNTV.CN