Watch Video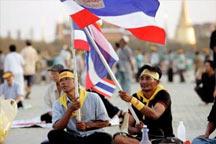 Play Video
In less than five years since its last military coup, Thailand has seen 5 prime ministers. The off and on political turmoil has created much pain for the nation.
In September 2006, the Royal Thai Army staged a coup against the elected caretaker government of Prime Minister Thaksin Shinawatra. A year later, pro-Thaksin allies regained power, with the People's Power Party winning the lower house election. The result was a coalition government led by Prime Minister Samak Sundaravej. This sparked strong opposition from anti-Thaksin forces.
In February 2008, Thaksin ended his exile and returned to face several charges. Three months later, the "Yellow Shirt" forces expressed their anger with anti-government protests. Thaksin and his wife were forced to leave the country again for the UK.
Meanwhile, the People's Power Party suffered great loss. The constitutional court stripped Samak of his post as prime minister in September 2008. Somchai Wongsawat, Thaksin's brother-in law took over, but the constitutional court dismissed the People's Power Party in December. Democrat Party leader Abhisit Vejjajiva was then elected as prime minister.
To show their support for Thaksin, the "Red Shirts" began a series of protests from early 2009. The protests forced suspension of the ASEAN summit scheduled for April.
In 2010, the Thai supreme court confiscated assets of Thaksin and his family worth 1.4 billion US dollars. The Red Shirts demanded the Abhisit government immediately dissolve the cabinet and hold elections. The government announced an emergency law for the capital Bangkok and nearby areas. From April to May, violent clashes between government forces and the Red Shirts left 91 people dead and more than 2000 others injured.
This May, the Abhisit government announced that lower house elections would be held on July 3rd. Opposition leader Yingluck Shinawatra, sister of Thaksin, won a landslide victory for her Puea Thai Party in the elections.
Editor:Shi Jierui |Source: CNTV.CN