Watch Video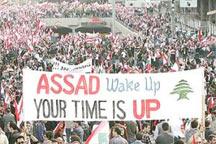 Play Video
British broadcaster Sky News has broadcast footage purporting to show anti-regime protests in Syria's second largest city, Aleppo.
The Syrian government has banned all but a few foreign journalists from entering the country and has restricted local media's reporting. Sky News says a reporter made the five-hour train trip from Damascus to Aleppo.
One activist purportedly tipped off Sky News about a protest at Bab al Hadid, near Aleppo's famed Citadel. The crew went on to film the disturbances. The footage appears to show at least one injured protester being carried away from the scene.
The demonstrations appear far smaller than those in other Syrian cities. But Aleppo is the country's second largest city, where much of Syria's small but growing middle class lives. And it's their support that President Bashar al-Assad counts on.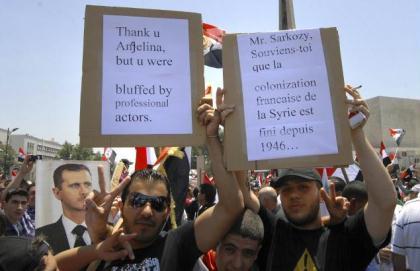 Syrians carry banners as they rally in support of Syrian President
Bashar Assad in Damascus on Tuesday. Tens of thousands of people
waving flags and pictures of Assad converged on Syria's main
squares on Tuesday, pledging allegiance to their president in the
latest show of government support to counter a three-month uprising
against his authoritarian rule.
Ali Moaaen, Syrian architect, said, "We need to make some reforms in administrative terms, in corruption terms but not change (Syria). Any country in the world, if you ask all citizens, they are not quite satisfied, they are not quite happy."
Rashed Al Tabshi, Syrian interior designer, said, "Most of the people here like him so much, we trust him. But maybe the problem is coming now to this country because most of the people don't trust the regime. But we trust him as a person and we trust that he's going to do some good stuff to this country and to the people. He likes his people."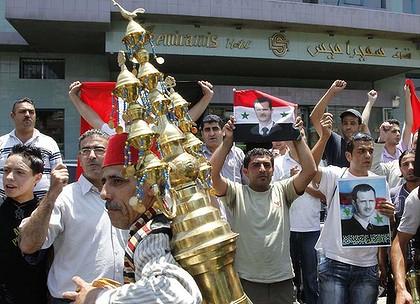 President Bashar al-Assad's supporters demonstrate outside the
Damascus hotel where opposition intellectuals were meeting.
Editor:Shi Jierui |Source: CNTV.CN