Watch Video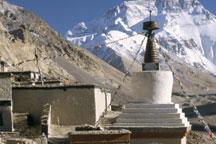 Play Video
Today, in CCTV's special series on Tibetan Monasteries, we take a look at the Rongbuk Monastery. Located at nearly 5000 meters above sea level, Rongbuk is the highest religious building in the world.
Closest to Heaven and farthest from the crowds.
At 5000 meters above sea level, everything about the Rongbuk Monastery points to its seclusion.
Rongbuk is in the Basum Township of the Tibet Autonomous Region. It belongs to the Nyingma sect, one of the earliest in Tibetan Buddhism. Followers are distinguished by their red robes.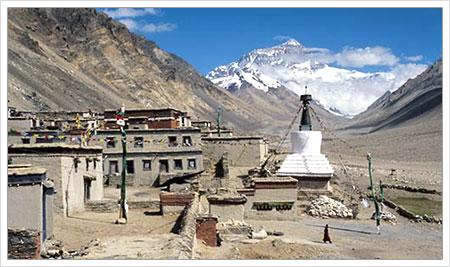 Rongbuk is in the Basum Township of the Tibet Autonomous Region
Reciting prayers to music is another distinctive characteristic. Followers believe this helps Buddha hear them better.
The closest villages are seven or eight kilometers away. But each day, believers come.
Monks and nuns are in charge of the daily running of the temple They generate their own electricity, and make their vegetarian meals.
Nun Nagwang Baizhen studied traditional Chinese medicine for five years. She attends to the nuns and monks who fall sick. Sometimes she goes down the mountain to treat poor villagers for free. The temple also offers accommodations to pilgrims, which brings in some income.
The Rongbuk Monastery has an extra upper building at an even higher altitude. Nowadays, only a small yard is left. Monk Ngawang Sanjay is its only keeper. He says he's been here for nine years, praying and maintaining it.
He says an Indian high monk once retreated to a cave in the yard. But it's impossible to stand up or carry out daily activities inside.
The clouds seem so close it's easy to imagine you can reach out and touch them.
No one knows why the founder chose to build a monastery so high up. But for devoted followers, long as there's Buddha in their heart, anywhere can be home.
Related stories
Editor:Du Xiaodan |Source: CNTV.CN