Watch Video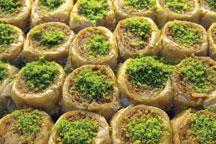 Play Video
Turkey, where eastern and western cultures collide, is one country famous for its dazzling array of delicacies. The most irresistible dessert from Turkey is probably "Baklava". Now we'll learn more about the sweet treat and how it's made.
Baklava is the Turks' most important contribution to the world of desserts. It's made with flaky phyllo dough, layered with spiced walnut filling and bathed in a sweet syrup.
Baklava is crunchy, rich and very sweet. Well made baklava practically melts in your mouth and finishes with you craving more.
The best Baklava is made in south-eastern Turkey, especially in the city of Gaziantep.
The history of baklava is not well documented. But there's strong evidence that it has a Central Asia Turk origin. Its current form was developed in former imperial kitchens of the country.
Editor:Du Xiaodan |Source: CNTV.CN