Watch Video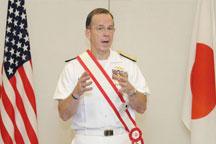 Play Video
Chairman of the US Joint Chiefs of Staff, Admiral Mike Mullen, has held meetings with Japanese Prime Minister Naoto Kan and other senior officials during the Japanese leg of his Asia tour.
Both Mullen and Kan say they will keep committed to deepening the Japan-US alliance. Kan says the Japan-US Security Protection System has become even more important with rising security challenges around Japan. Mullen echoed the statement, saying the presence of the US army is crucial in maintaining security and stability in Japan.
The two sides also pledged to accelerate the relocation of the Futenma military base, which is a US Marine base in Okinawa. Japan is Mullen's third leg in his Asia tour, which has already taken him to China and South Korea.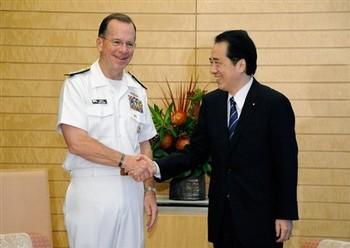 Adm. Mike Mullen, chairman of the Joint Chiefs of Staff,
left, is welcomed by Japanese Prime Minister Naoto Kan at
the start of their meeting at Kan's official residence in
Tokyo, Japan, Friday, July 15, 2011.
Related stories
Editor:Du Xiaodan |Source: CNTV.CN