Watch Video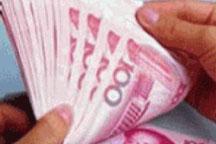 Play Video
Traditionally, Tibetans live a simple life, and save rather than spend. Having a debt is something that makes people uneasy. But as the desire to lead a better life grows, bank loans have become an engine to boost private businesses, and a better life.
39-year-old Zaxi is a regular at his local bank. 8 years ago, he was a farmer in the neighboring village, who could barely make ends meet. His first loan of some 27-thousand yuan bought him a tractor, and he began to make money by transporting goods for others. Now, Zaxi has several different vehicles worth some 2 million yuan, and is planning to run a vehicle leasing company.
Villager and vehicle owner Zaxi said, "The bank loans not only lifted me out of poverty, but also gave me a good life. Now, I have credit to get a bigger loan, and expand my business. I'm helping three families from my village to improve their lives through joining my business with bank loans."
The Agricultural Bank of China is among the first state-owned commercial banks to operate in Tibet. It's never short of business. The demand for loans continues to grow as people tap new opportunities or renovate their homes. But challenges are also great, as people from the remote farming or herding areas have little to back their mortgage.
Mima Wangdui, Governor of Agricultural Bank of China, Tibet Branch, said, "Many people don't have a lot of real estate to mortgage, but the Tibetans have a tradition of keeping their word, they have good credit. So we have a special version of credit cards for Tibet, people can get their loans easily. And bad loans are limited to less than one percent."
Tibet has had financial and other forms of help from the central government and other provinces. Locals joke that out of every dollar spent, nine dimes comes from aid. But that doesn't mean it's what Tibetans want, they'd rather develop their region's own economy with their own labor to catch up with the rest of the country. This also requires favorable policies and measures.
Yang Baolin, Deputy Director of China Banking Regulatory Commission of Tibet Office said, "The banking sector has been carrying out no, or low interest loans for the past few decades. Today, we are imposing the same deposit rate as the rest of the country, but for loans, Tibet enjoys a rate of at least 2 percentage points lower. That means billions of bank interest is injected into people's pockets."
Zaxi is proud that he had the right idea and made the right decision to become the first in the village to borrow money from the bank nearly a decade ago. That became the starting point for his new life and career today. But one good idea is not enough for widespread success. Start up capital is needed to help develop further potential. This is especially true for Tibet, where the economy still lags behind that of many other parts of the country.
Editor:Zhang Jingya |Source: CNTV.CN