Watch Video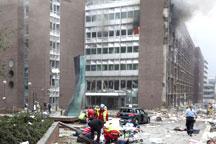 Play Video
Friday's attacks formed a deadly day of terror in Norway, a country known for its peace. While it's still too early for a definitive statement on the motivation of the attacks, analysts say this reinforces the fact that no country is immune from the threat of terrorism.
An independent Norwegian television station TV2 reported on Saturday the Norwegian man detained after the attacks has links to right-wing extremism. As a result, some are saying the attacks may be the work of a far-right militant group.
Although there has been no claim of responsibility, others have noted the attack displays the hallmarks of violence attributed to Islamic militants. NATO member Norway has been the target of threats before, notably over its involvement in conflicts in Afghanistan and Libya.In a message posted online after Friday's attacks, Islamist militants claimed the Oslo bombing targeted Norwegian Prime Minister Jens Stoltenberg. The message threatened a violent response if Norweigian soldiers were not withdrawn from Afghanistan. Another posting said the attacks were a message aimed at the countries of Europe from the holy warriors.
Other analysis attributes the violence to Norway's loose intelligence work and security measures in anti-terrorism.
While still other experts say it could be another al-Qaeda attack, if the government building bomb can be linked with the attack against a youth rally of the Labor-led coalition. One year ago, three Al Qaeda suspects were arrested for planning terrorist attacks in Norway. And even earlier in 2004, Ayman al-Zawahiri, Al Qaeda's then second most powerful man, stirred his supporters to attack Norway.
Other suspected groups include the Pakistani Taliban, the Islamic Movement of Uzbekistan, and Al Shabaab in Somalia, all with records of links to plots in Europe.
More on the attacks:
At least 80 killed in Norway massacre
Police have arrested the gunman, who wore a police uniform during the massacre and has suspected links to right-wing extremism. <Full story>
Major blast rocks Norway PM's office
A huge explosion went off near government headquarters in the Norwegian capital Oslo. Norway's national broadcaster NRK says at least seven people have been killed and two badly injured. <Full story>
At least 87 killed in twin attacks in Norway, first suspect arrested
OSLO, July 23 (Xinhua) -- The death toll of the twin attacks Friday in Norway may surpass 87 after more victims were discovered in the shooting spree two hours after a bomb explosion that ripped buildings in the heart of Norway's government. <Full story>
At least 10 killed after shooting near Oslo
OSLO, July 22 (Xinhua) -- Local police had confirmed that at least 10 people were killed in a shooting attack in the Buskerud county, near Oslo, the capital, Norwegian News Agency reported later Friday. <Full story>
Domestic & Global reactions:
PM calls on Norwegians to stay together after deadly attacks
OSLO, July 22 (Xinhua) -- Norwegian Prime Minister Jens Stoltenberg on Friday called on its people to stay together after two deadly attacks, in which at least 17 people were killed earlier in the day. <Full story>
General Assembly president strongly condemns violence in Norway
UNITED NATIONS, July 22 (Xinhua) -- UN General Assembly President Joseph Deiss on Friday expressed shock over the deadly attacks in Norway and strongly condemned these attacks. <Full story>
Obama calls for world cooperation to fight terrorism after Oslo attacks
WASHINGTON, July 22 (Xinhua) -- U.S. President Barack Obama on Friday sent condolences to Norway in wake of the deadly bombing and shooting in its capital city of Oslo, calling on the world to work together to fight terrorism. <Full story>
Editor:Zhang Pengfei |Source: CNTV.CN